Welcome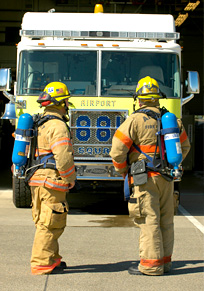 Portland International Airport (PDX) is committed to ensuring the safety of the airlines, airport businesses and visitors. The Fire Department manages the Aircraft Rescue Fire Fighting (ARFF), Paramedic, Structural, Training and Inspections, and Water Rescue emergency programs at PDX. Select from the Fire Department menu for more information about the department´s programs or contact us below for aditional information.
Contact:
PDX Fire Department, 503.460.4600
Facts and Figures
The Port of Portland Fire Department began operations in October 1962. Currently, 36 dedicated professionals staff the department. While qualified as traditional firefighters, their primary mission is aircraft firefighting. Fire Department personnel work on three rotating shifts. Each shift is normally comprised of ten firefighters (of which three are paramedics), two officers (one captain and one lieutenant) and three water-rescue-qualified firefighters. The on-duty shift works for 24 hours, followed by 48 hours off. Personnel assigned to the training and inspections department work four 10-hour shifts per week. Shift changes occur at 8 a.m. each morning. The fire department has equipment valued at more than $3 million. This includes four ARFF trucks, one structural pumper (fire engine), an advanced life support unit called a "rescue," and a Columbia River-based water rescue boat. Each vehicle has a specific firefighting task.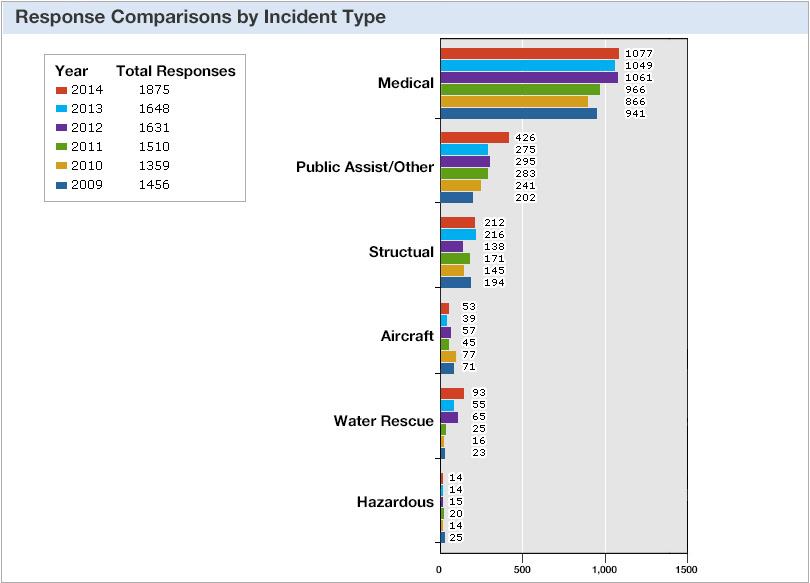 Career Opportunities
All firefighter positions at the airport are classified as civil service. Prospective candidates enroll in periodic competitive exams, which are held approximately every 24 months. When firefighter positions become open, the candidates highest on the list go through an extensive interview and selection process.
For more information about the Fire Department´s career opportunities, visit our Career Opportunities Web page.
Aircraft Rescue Fire Fighting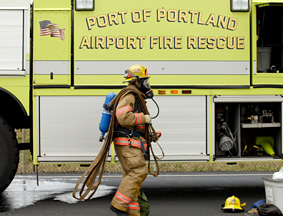 The Aircraft Rescue Fire Fighting (ARFF) program is designed to prepare each member of the department for an aircraft-related accident. The safety of passengers and aircrew is the department´s number one priority.
The specialized fire trucks used for ARFF are unique and can rapidly deploy large quantities of water and firefighting agents such as foam and dry chemicals to combat an aircraft fire.
Emergency Medical Services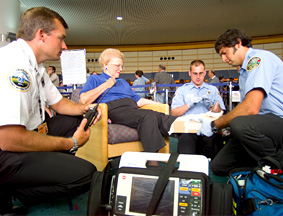 The paramedics at Portland International Airport respond to a variety of calls and fill various roles depending on the nature of the emergency. They are prepared to establish a "medical branch" for the triage, treatment and transport of multiple victims of an aircraft disaster, structural fire, vehicle accident or similar emergency. Medical emergencies comprise approximately 65 percent of all calls at PDX. Many of the ill or injured patients are travelers, some far away from home. Paramedics play a vital role in the airport's customer service efforts.
The paramedics work under regional protocols, a physician advisor and standing orders. The scope of practice for paramedics in Multnomah County is one of the most progressive in the nation, allowing them to offer "cutting edge" pre-hospital treatment for their patients.
Structural Fire Fighting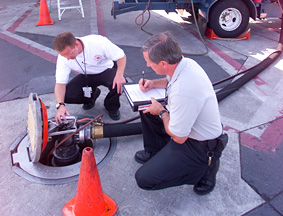 Currently, all newly hired firefighters at Portland International Airport attend a 10-week structural fire academy prior to completing their yearlong probationary period. More "site specific" training is then conducted using the airport´s equipment and response areas.
In addition to all types of fires, the structural engine crew responds to vehicle accidents, medical emergencies, HAZMAT incidents and rescue calls, and also helps re-supply water to Aircraft Rescue Fire Fighting vehicles during extended operations.
Training and Inspections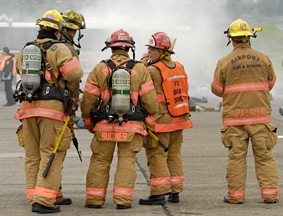 The training division is responsible for instructing firefighters in the critical aspects of life/fire safety. Firefighters at PDX meet and exceed national certification requirements for airport firefighters.
Portland International Airport employees are offered training by the Fire Department in the operation of fire extinguishers, automatic external defibrillators (AEDs) and CPR.
The inspections division tests and maintains the fire alarm system, fire sprinkler systems and hydrant systems, and insures that each area of the airport is in compliance with fire/life safety requirements.
Water Rescue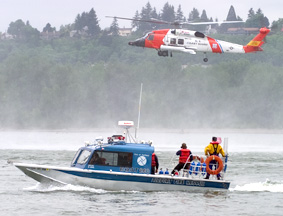 The primary mission of the Water Rescue team is to rescue passengers and crew of aircraft involved in water accidents. It also responds to life threatening emergencies on the Columbia River and requests-for-assistance from other agencies.
Because of low water temperatures in the Columbia (38°-67° F), hypothermia is a major concern. Expedient rescue is a must, and the Port´s jet-powered water-rescue boat meets this qualification. In addition, Water Rescue personnel are specially trained to deploy flotation equipment for more than 200 passengers in a matter of minutes to reduce the time victims are in the water.