1/28/19
"Portaurora" Creates a Celestial Experience at Portland International Airport
FOR IMMEDIATE RELEASE

"Portaurora" Creates a Celestial Experience at Portland International Airport

Artists Entice Travelers with a New Installation Inspired by the Northern Lights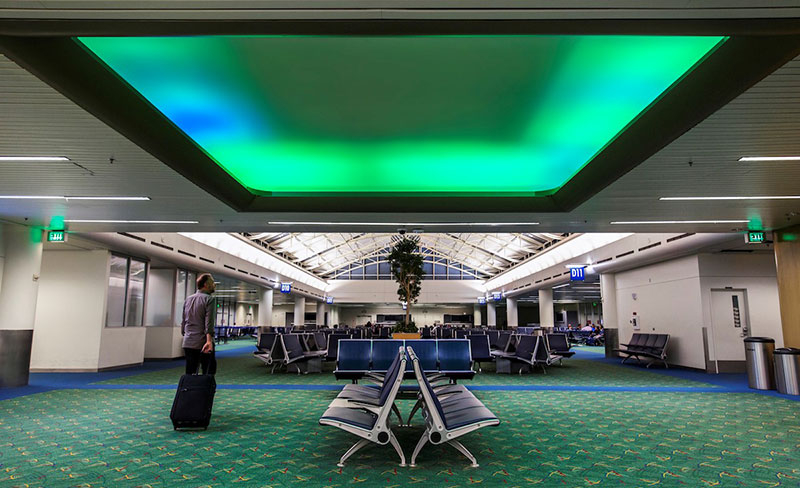 PORTLAND, Ore., January 24, 2019 – Portaurora, a new permanent art piece designed by Sticky Co., a Portland- and Amsterdam-based artist team, transforms the airport experience into something magical. As travelers at Portland International Airport (PDX) make their way through concourse D to reach their gates, they enter the interactive Portaurora installation, which responds to each traveler's presence with a wash of colors and sound inspired by the northern lights.

Travelers at PDX have long enjoyed the best of local restaurants and shops. The airport even has a free movie theater showing locally made films. But until recently, this stretch of concourse D lacked an element that distinguished it from other terminals around the country. The Port of Portland, which owns and operates the airport, commissioned Sticky Co. to create a work that would transform travelers' experiences as they move through the concourse.

Taking inspiration from the aurora borealis, Sticky Co. used custom software and electronics, LEDs, and IR sensors to create Portaurora, which welcomes each traveler by making their presence an essential part of the dynamically changing artwork. "Although this is mostly a technology-driven project, we added a simple element – applying glitter to the ceiling – to enhance the aurora effect," says Andrew Haddock, who leads the Sticky Co. team. "We wanted passengers to experience a bit of a surprise as they pass through the space. One of the pleasures of creating a piece like this is getting to see the delight of strangers as they interact with it."

As a new permanent installation, Portaurora joins other signature features that make PDX a favorite airport. "We want the experience travelers have within the airport to reflect what's special about our city and our region," says Wendy Given, art coordinator for Port of Portland.

About Sticky Co.: Sticky Co. is a Portland- and Amsterdam-based artist team that makes memorable multimedia for transit hubs, museums, festivals, sports teams, universities, and other clients. Their custom creative projects span technologies and genres.

About the Port of Portland: Established in 1891 by the Oregon Legislature, the Port of Portland today owns three airports (Portland International, Hillsboro, and Troutdale), four marine terminals, and five business parks. Its mission is to enhance the region's economy and quality of life by providing efficient cargo and air passenger access to national and global markets, and by promoting industrial development.

###

Contact:
Andrew Haddock
andrew@sticky.tv
(503) 232-1600

Downloadable digital photos and video of Portaurora, which may be used with the attribution "photograph/video by Sticky Co.":

High-res photos: https://stickyco.box.com/v/Portaurora-HiRes
Low-res photos: https://stickyco.box.com/v/Portaurora-LoRes
Video: https://vimeo.com/stickyco/review/296507629/1198063278
Portside
Our digital magazine sharing stories about our Port of Portland team, the people we serve in our region, and our connections across the globe.
Check it out!
Media Relations Team
Our Media Relations Team strives to provide what you need in a timely manner. You can reach our on-call Media Relations representative 24/7 by texting or emailing the address below. During regular business hours feel free to contact the appropriate media relations contact who can assist you with visits and any interview or information requests.
After-hours on-call Public Information Officer: Click for email
You may also be interested in