6/12/19
Portland International Airport Commissions Artist for Permanent Installation on Concourse E Extension
Jacob Hashimoto's art will celebrate PDX region and travel
For decades, the Portland International Airport has worked to bring the heart of Portland and best of Oregon to its travelers—from featuring local musicians and artists to offering Portland-based retail and restaurants. The Port of Portland is excited to announce a new permanent art exhibit coming to Concourse E in summer 2020 that further celebrates the region.
This new installation, approved today by the Port of Portland Commission, will be created by Jacob Hashimoto, a Pacific Northwest-raised artist who has exhibits across the U.S., Europe and the Middle East. The artist will draw on his love for this region to create a unique structure that celebrates Portland's architecture, city landscape and natural beauty, along with elements found at PDX.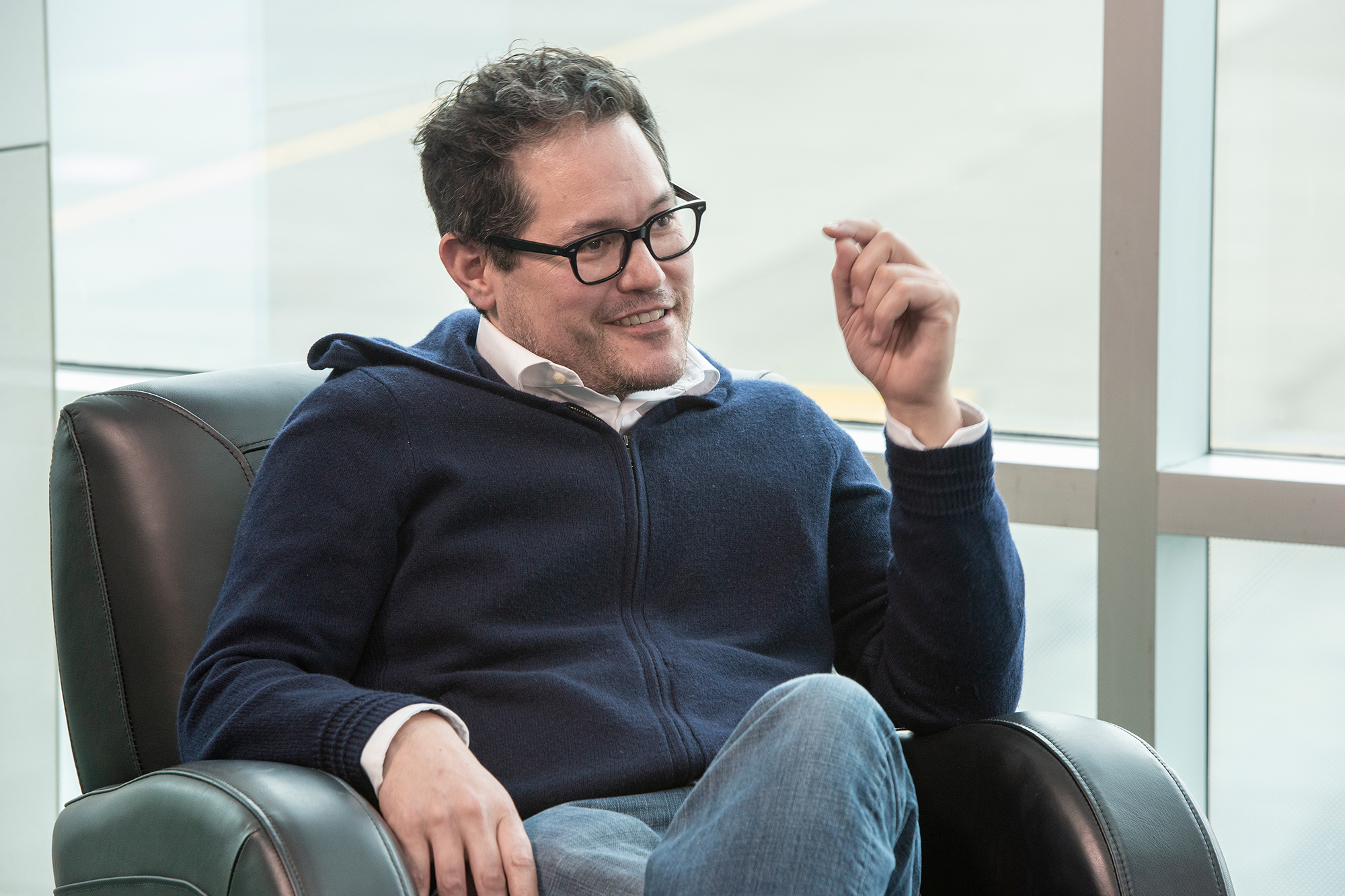 "PDX is an iconic space in my mind. It was the big city to me when I was a kid, and the opportunity to come make artwork in collaboration with PDX was really inspiring," said Hashimoto. "I am interested in how I can design artwork that is a pleasure to discover as you travel through it visually."
Drawing from his Japanese heritage, Hashimoto brings a unique style to his art. His interactive three-dimensional structures comprise thousands of miniature kites, which are made from bamboo and silk or paper and joined together in larger compositions.
Hashimoto's path to this signature art medium was inspired by his family. In college, Hashimoto had plans to become a minimalist painter, but like many aspiring artists, he felt like he was running out of ideas. His father encouraged him to keep studying and to start doing something with his hands. Hashimoto chose to craft kites, something his grandfather started and his father continued to enjoy as an adult—flying them outside his office window. This small act of creative inspiration became the backbone of Hashimoto's artistic approach. It also brought a new, youthful energy to his art, something that continues to drive him today.
"It's important to me to create artwork that is generous on many different levels—parents can look at it as they're playing with their kids, or 12-year-olds can dig it. I think that's what you do in the West, you create possibility," Hashimoto shared.
When completed on Concourse E next year, Hashimoto's structure will be a nod to the neighborhoods and natural beauty that surrounds Portland—with kites tracing the paths of the Willamette and Columbia Rivers, while others feature roses and pearls, the city's flags and seals, and even the PDX carpet pattern. Hashimoto also wants to invite travelers to draw their minds away from the city and into the broad, vast expanse of the West. His goal is to remind travelers of the terrific potential of nature and the adventure that's just a flight away.
The art installation is made possible due to PDX Next, a program upgrading and updating the airport that includes extending Concourse E. When the extension opens in June 2020, in addition to Hashimoto's artwork, the space will feature new gates for Southwest Airlines, more comfortable places to sit, new dining and shopping options and a great view of Mount Hood.
To find Hashimoto, the Port partnered with the Regional Arts & Culture Council (RACC) to oversee the selection process, which included an open call for artists combined with targeted outreach to artists from underrepresented communities. RACC received 283 applications and selected four finalists for interviews with a seven-person committee, where artists discussed their existing work and proposed approach for this project. Hashimoto's deep artistic background and expertise, combined with his love for PDX, helped him rise to the top.
"It's quite exciting to have Jacob's work featured at PDX, which is often a person's first and the last experience when visiting the region," said Peggy Kendellen, public art manager at RACC. "Portland is a city filled with creatives, and what better way to be introduced to the city than with this amazing installation inspired by a sense of place through the lens of an artist."
Hashimoto is based in New York. His work has been featured in MOCA Pacific Design Center in Los Angeles, MACRO - Museum of Contemporary Art in Rome, Fondazione Querini Stampalia in Venice, Schauwerk Sindlefingen in Germany, and the Wäinö Aaltonen Museum of Art in Finland. He had solo shows at Mary Boone Gallery in New York, Rhona Hoffman Gallery in Chicago, Galerie Forsblom in Helsinki and Leila Heller Gallery in Dubai, among others. He is a graduate of The School of Art Institute of Chicago.
Photos of the artist at PDX: Photo credit courtesy of the Port of Portland
Photo of the artist's previous work titled, "Gas Giant" installed at the MOCA Pacific Design Center, 2014. Photo credit: courtesy of Fredrik Nilsen
# # #
Portside
Our digital magazine sharing stories about our Port of Portland team, the people we serve in our region, and our connections across the globe.
Check it out!
Media Relations Team
Our Media Relations Team strives to provide what you need in a timely manner. You can reach our on-call Media Relations representative 24/7 by texting or emailing the address below. During regular business hours feel free to contact the appropriate media relations contact who can assist you with visits and any interview or information requests.
After-hours on-call Public Information Officer: Click for email
You may also be interested in