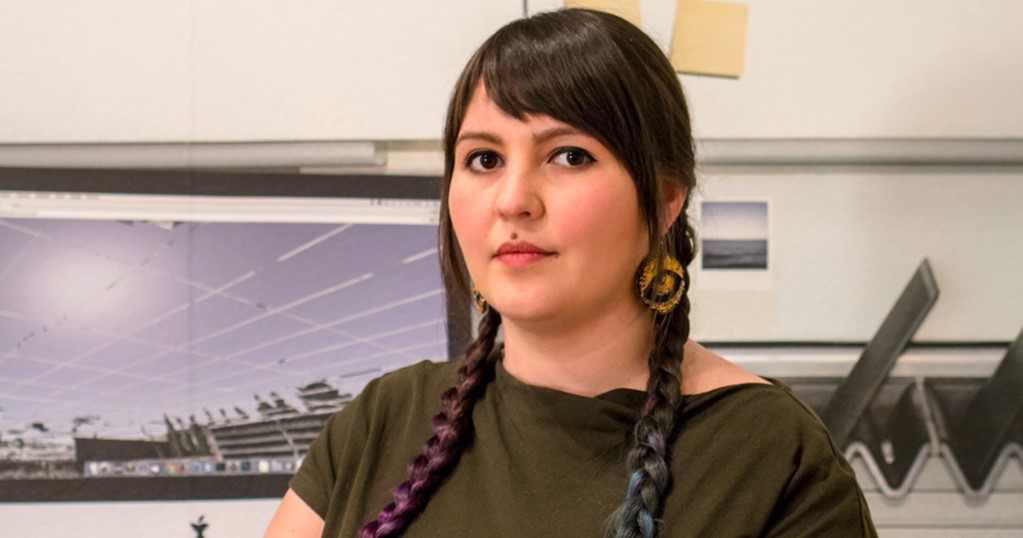 7/29/20
RYAN! Feddersen Selected for Portland International Airport's Permanent Art Collection on the New Concourse B
A unique art installation will be permanently displayed at Portland International Airport's Concourse B, home of Alaska Airlines' commuter flights, when it opens in 2021. The Port of Portland today announced that RYAN! Feddersen, a Pacific Northwest artist, was selected to produce an art series that celebrates the region's history, natural wonders and people.
Feddersen uses a variety of mediums to create large-scale sculptures, installations and murals that provide engaging experiences for the public. Her work demonstrates that art can help translate and enhance our relationships to one another and the environment.
"We live in a region that has some of the most diverse habitats in the world: beaches, grasslands, temperate rain forests, high desert, alpine mountains. So a lot of the inspiration for this new work comes from the Pacific Northwest's biomes, which are astounding and vulnerable."
The Port partnered with the Regional Arts & Culture Council (RACC) to oversee the selection process. RACC led the Port's Art Selection Committee – comprising 17 artists, curators and Port of Portland staff – which sought art that was inspired by the land and celebrated the contributions of regional Indigenous Peoples and culture.
The Pacific Northwest has been Feddersen's home for more than 30 years. She is an enrolled member of the Confederated Tribes of the Colville Reservation, from the Okanogan and Arrow Lakes Bands. She grew up in Wenatchee, Wash., as a part of a creative family with multiple cultural perspectives. Her work celebrates what it means to be part of a contemporary American culture that has ancient stories and complex ties to the natural world.
Feddersen's Inhabitance art series will feature interconnected artworks in steel, glass and wood that will be displayed along the north wall of a completely redeveloped and expanded Concourse B, which will open for travelers in 2021. Inhabitance will highlight the diversity of Pacific Northwest biomes, which are specific communities of plants and animals that have common characteristics based on their environments.
When installed, Inhabitance will be part of the airport's permanent art collection featured at PDX, which includes a new installation from Jacob Hashimoto on the recently opened Concourse E. The Port of Portland's Art Program has a mission to provide a portal into the dynamic cultural life of our region, enrich the travel experience at PDX and offer equitable access to art opportunities. In addition to commissioning artists like Feddersen to create permanent artwork, the Art Program curates rotating exhibitions and manages the unique Hollywood Theatre microcinema at PDX.
"RYAN! Feddersen's work will create another groundbreaking installation at PDX and engage PDX travelers in celebrating the contributions of regional Indigenous Peoples and culture," said Wendy Given, the Port's art coordinator.
Feddersen received a bachelor's degree at Cornish College of the Arts in 2009, then remained in Seattle, working as an artist, curator, studio assistant and arts administrator, until recently relocating to Tacoma, Washington.
Creative and design leaders can catch Feddersen and Hashimoto in a virtual Design Week Portland event on August 4, which will focus on the local places, people and passions inspiring what's next at the airport.
# # #
Portside
Our digital magazine sharing stories about our Port of Portland team, the people we serve in our region, and our connections across the globe.
Check it out!
Media Relations Team
Our Media Relations Team strives to provide what you need in a timely manner. You can reach our on-call Media Relations representative 24/7 by texting or emailing the address below. During regular business hours feel free to contact the appropriate media relations contact who can assist you with visits and any interview or information requests.
After-hours on-call Public Information Officer: Click for email
You may also be interested in