9/2/20
Rivergate Lot 4 – Project Summary
The Port of Portland (Port) is seeking a grant from the U.S. Economic Development Administration's Public Works and Economic Adjustment Assistance program (EDA EAA) to support a proposed development on Port property within the City of Portland's Rivergate Industrial District. Consistent with the Port's strategic goals for industrial land development, the proposed project would contribute to regional economic recovery, promote social equity, and support needed job growth and private investment.
The Port's Industrial group has developed the Rivergate Lot 4 Plan including an initial site layout and construction cost estimate. The project plan envisions three 32,000 square foot manufacturing/industrial flex buildings, each divisible into industrial spaces as small as 5,000 square feet. The EDA EAA grant would help to support the development of one of these three buildings and all site improvements.
The Rivergate Industrial District is less than 10 miles northwest of downtown Portland, on the confluence of the Columbia and Willamette Rivers, within close proximity to the Interstate 5 freeway. Rivergate is home to the Port's marine terminals 5 and 6, as well as a variety of logistics distribution and production facilities such as Amazon, Georgia Pacific, Ajinomoto and Del Monte.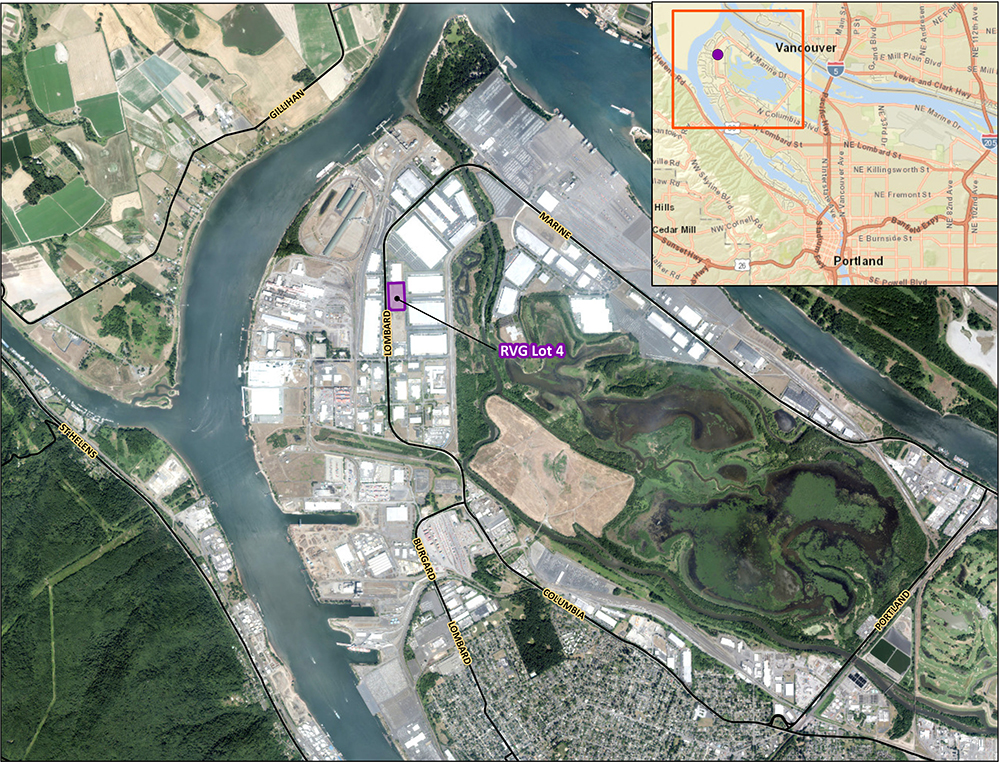 In response to the COVID public health and economic crisis, the Port plans to develop a portion of the Rivergate Lot 4 Plan in support of regional/local small businesses by providing affordable and flexible industrial space. According to the 2018 The State of Urban Manufacturing Report Portland City Snapshot, "Small industrial businesses are feeling the pinch as rents rise making it harder to operate in areas, like Central Eastside, that have traditionally supported these businesses to start and grow (p.10). According to the report a pivotal area of opportunity for Portland to strengthen its urban manufacturing is through "polices and strategies that support real estate affordability, especially for smaller manufacturers as they scale up" (p.11). The Port believes this kind of space will afford small business tenants the opportunity to successfully build and grow or relaunch their operations. In addition to the affordable and flexible small lease footprints, the Port proposes to provide small business coaching services to support the tenants. COVID has dramatically impacted the local restaurant and food service industry in Portland. The Port plans to include a commercial kitchen to support small business food service retailers with space for the preparation and manufacture of food for sale to customers. In addition, the initial building is proposed to include two, 3,000 square foot retail spaces, providing an opportunity for food entrepreneurs to sell their products onsite. Currently there are no retail food outlets for the thousands of employees that work in the Rivergate Industrial District.
In order to develop a site that specifically supports emerging Black, Indigenous and People of Color (BIPOC) owned businesses, the Port is meeting with industry experts and organizations who have expertise working with these communities. The information gathered from these efforts will further inform site development and connect the Port with future occupants and businesses. Through careful planning and engagement, the Port will successfully provide incubator opportunities, support the scalability of businesses to market and increase wealth in communities that have not historically benefited from similar economic development opportunities.
The Port is seeking an EDA EAA grant which would support the development of one of the proposed buildings at Rivergate Lot 4. The grant, along with the additional Port contribution, will allow the Port to perform all needed site work and construct one 32,000 square foot flex industrial building.
The EDA EAA provides an ideal opportunity for the Port to partner with the federal government to promote small business retention and development, to contribute to regional economic recovery resulting from the Covid-19 pandemic, and foster prosperity over the long term. Effectively, it will be the first step in the creation of a Port of Portland Business Incubator Program.
Portside
Our digital magazine sharing stories about our Port of Portland team, the people we serve in our region, and our connections across the globe.
Check it out!
Media Relations Team
Our Media Relations Team strives to provide what you need in a timely manner. You can reach our on-call Media Relations representative 24/7 by texting or emailing the address below. During regular business hours feel free to contact the appropriate media relations contact who can assist you with visits and any interview or information requests.
After-hours on-call Public Information Officer: Click for email
You may also be interested in