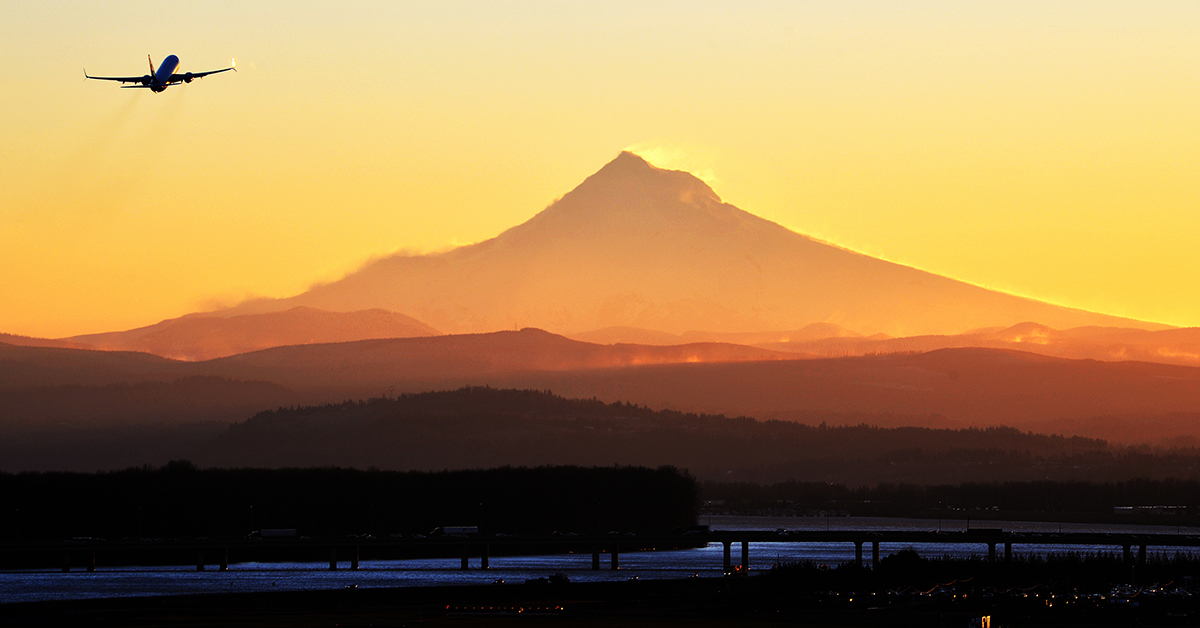 6/13/18
Summer Travel Sizzles at Portland International Airport
If there's one piece of advice travelers should heed this summer it's this: Get to the airport early.
Yet some will still narrowly make their flight—and some will miss it—as it's expected to be another record-breaking summer travel season at Portland International Airport.
PDX expects to serve nearly 5.8 million passengers from June through August, which would beat last summer's all-time travel record by nearly 2 percent.
During the busiest travel days—June 14, 15, 22, July 23 and Aug. 6—the airport will serve more than 70,000 passengers daily. This summer, the airport expects an average of 1,250 more travelers every day over last summer's travel season.
Here are a few things to consider in preparation for summer travel adventures:
Fly to More Places: Travel to Europe generally doubles during the summer months, and PDX's international carriers answer the call. Travelers can take Delta Air Lines nonstop to London or Amsterdam, head out on Condor Airlines' nonstop to Frankfurt, or fly Icelandair to Reykjavik, Iceland and then continue onto European destinations beyond. Mexico City, Guadalajara, Tokyo, Calgary, Toronto and Vancouver are also international nonstop adventures from PDX.
Pay (a bit more) to Park: Starting June 11, parking rates increased in the airport's long-term garage and economy parking lots. Travelers can check parking lot capacity and calculate parking fees by visiting the parking page on the airport's website.
Keep Animals in Carriers: Airlines are changing and clarifying their policies on traveling with animals—from service animals, to emotional support animals, to pets. Travelers should always check with their airline several days in advance if planning to travel with an animal. PDX is in the process of making changes too.
Proposed rules for traveling with animals in the terminal, slated to go into effect soon, will help clarify which animals can be in the terminal, what travelers need to do with their animals at PDX, and will more closely align airport rules with airline regulations. Note: bona fide service animals, trained to provide service to the disabled, are allowed in all areas of the airport.
Plot your Path: Before heading to the airport, be sure to check the route. There's a great deal of roadwork on state highways this summer, including I-205. At times, the paving project on I- 205 could impact access to Northeast Airport Way; be sure to check the paving project's weekly construction updates before heading to PDX.
Carry a Mobile Phone: By late June, the last pay phone will be removed from the PDX terminal. Travelers without cell phones can make a local or toll-free call by picking up a courtesy phone to reach an operator who will then connect the traveler to an outside line. All long- distance calls will require a pre-paid phone card, which can be purchased from any news/gift store. A TTY telephone will be available at the north information booth adjacent to carousel eight in baggage claim.
Stand in Shorter Lines: In May 2018, 92 percent of TSA Pre✓® passengers waited less than five minutes in line. Consider applying for TSA Pre-Check before summer travels to save some time. The busiest time at the PDX security checkpoints is from 4:30-6:30 a.m., daily.
Celebrate Summer: On June 6, PDX celebrated the 30th anniversary of the iconic Clocktower in the middle of the airport terminal. The birthday party was the kickoff event for the Clocktower 30 Summer Celebration, a season's worth of celebrations highlighting the fantastic food and beverage options at the airport, including a PDX Brewfest on June 22 and a special partnership with Feast Portland in August. Airport shops are also celebrating with special events and sales throughout the season.
Discover new Art: A new #OregonMade exhibit in the south pedestrian tunnel features movie posters from movies filmed in Oregon, and the Hollywood Theatre @PDX's new slate of short films running for summer are a few must-sees at PDX for those with time to spare.
Travelers can find more PDX travel tips at www.flypdx.com, and can stay in touch with new developments at PDX on Twitter @flypdx. Transportation Security Administration travel tips and a complete list of items prohibited on flights are at www.tsa.gov.
Portside
Our digital magazine sharing stories about our Port of Portland team, the people we serve in our region, and our connections across the globe.
Check it out!
Media Relations Team
Our Media Relations Team strives to provide what you need in a timely manner. You can reach our on-call Media Relations representative 24/7 by texting or emailing the address below. During regular business hours feel free to contact the appropriate media relations contact who can assist you with visits and any interview or information requests.
After-hours on-call Public Information Officer: Click for email
You may also be interested in